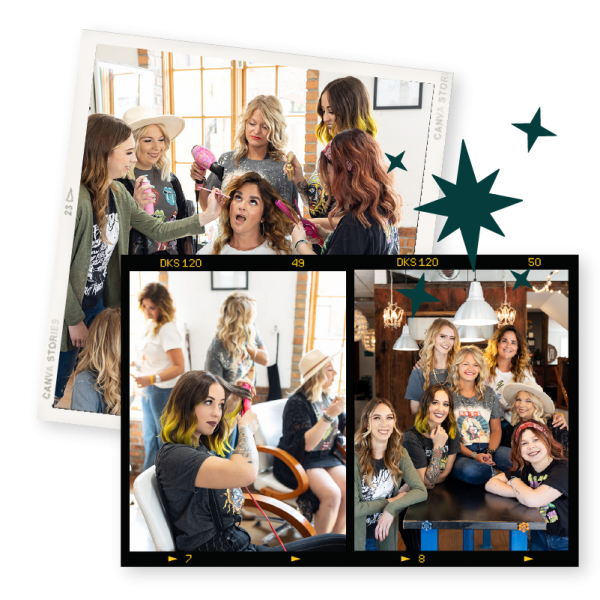 Not just another salon,
it's an experience.
We're a sisterhood of empowered women who support each other every day. We don't just do hair, we're professional daymakers. We're all about lifting each other up; when you come here, you're part of the Chaos Girl Gang.
We built Chaos on a foundation of respect, love, & trust. We strive to give each of our clients the highest quality experience possible. Empowering you to slay the day by helping you look and feel your best. We are honored when you choose us to be part of your life, on your first dates, homecoming dances, wedding days, and every day in between.
Several years ago when my long time stylist moved to another state I never thought I would be comfortable with anyone else. In comes Morgan from Chaos. She is nothing short of spectacular. Morgan, as well as the entire staff, is welcoming, greeting you with a smile and hello and do whatever they can to make you feel safe during challenging times. Morgan is an expert at what she does, provides me with constant ideas on how to change things up, but is also supportive if I want to maintain the current style. People of all ages, lifestyles, are welcome with open arms. Cannot recommend Morgan and Chaos enough!
As a first time customer, I was given a tour, offered a beverage and had my coat put away for me. The dye bar in the main room was comfortable and inviting. Becky took the time to listen to my needs and told me upfront what the cost would be before starting, which was a big comfort. I wasn't overcharged like I have been at other salons, my haircut and color came out fabulous and I only spent about 2 hours there. I will definitely be back, especially for the head massage!
Chelsey is very informative, and dedicated to her work. She new exactly what I needed and what needed to be done with my complicated hair. I have recommended my mom and my aunt to try her out and they were both very pleased. Chelsey is a people person and made me and my family feel welcome to the studio Thank you, Chelsey!
I booked this appointment for my little sister. My sister is very nervous and lacking in confidence. I could not go to the appointment with her but I was told, Jenn made her feel so special and important throughout the appointment and I was told my sister almost cried when she saw the final product. Without Jenn, my sister would not have been as confident to enjoy her homecoming. Thank you so much for making her smile
Chaos is a very clean, friendly, upbeat, place to go and spoil yourself for a day. Reasonably priced and many options to choose from.
Chelsea is fantastic! Her attention to detail is outstanding, and she's very professional and efficient. She's also fun to chat with while she's making your hair amazing!
I love coming to this salon! It's like walking into a great family environment. The staff is always so pleasant, and the service is amazing. I'm always impressed at how they want to continue learning and growing and adding new services for their clients to experience. I always leave feeling fantastic, inside and out!
I came in for hair revival help- I wasn't in for a hair cut or style yesterday- I asked Jenn what the best combination for my very dry hair after repeated heat use would be. I was having breakage and straw-like feeling. She had the product ready for me to pick up at the counter: Neuro Revive for a deep treatment and (I can't remember the name of it) but it is also Neuro for heat protectant. I have only used them once and my hair feels so amazing! I cannot believe the change after one use. These women know their hair, know their product, and always jumps in to help you and your hair! I love Jenn and all of her staff! They are amazing!
I was extremely happy that I could be seen on such short notice. I am very happy with my haircut and also enjoyed the wonderful scalp massage (my favorite part). The salon has a really cool vibe and everyone seemed very friendly, especially the receptionist. I will be back.
This was my first visit. I went in for a trim and normal color/tone. Morgan suggested a new color. I love it. She was great and the salon is really fun.