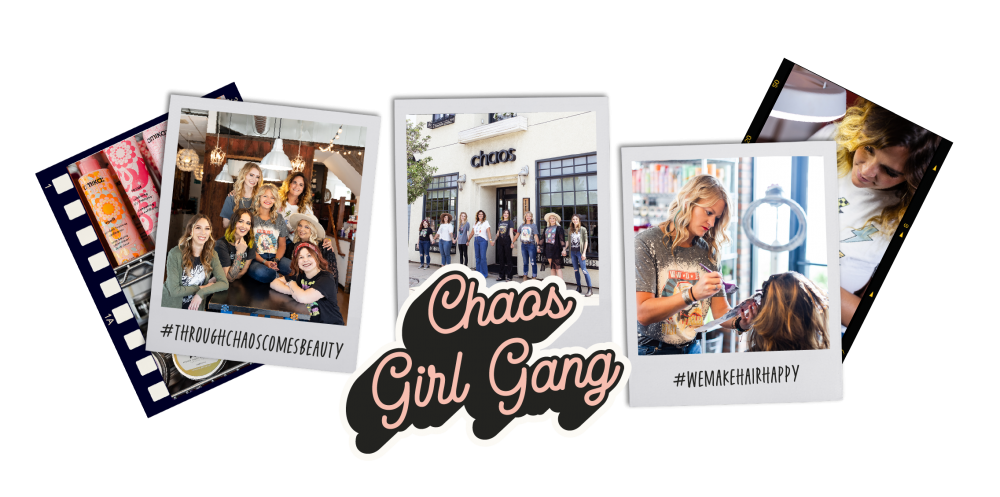 We're Your New Hair Bestie
At Chaos we offer a variety of services to keep you looking and feeling your best. Drop by for a blowout, or stay awhile and transform your whole look. We want your hair to look great even when you're not in our chair.
You're tired of jumping from one salon to another, looking for the perfect fit. We hear you. Chaos offers a cozy atmosphere where our guests feel relaxed and at home. Kick back in one of our chairs with a cuppa coffee and chat to stylists and other like-minded guests.
Chaos is where hair magic happens and lasting friendships are made.
Chaos is 100% woman-owned and operated since day one. When you support a small business, you're putting food on our tables, sending our kids to school, and helping us pay our mortgages! Your support means the world to our tight-knit group of fun-loving girls. We appreciate YOU!
With great hair comes great responsibility. We'll set you up with all the personalized hair care you'll need to keep your hair looking its best. Whether you're blonde, brunette, curly or straight, we will make specialized recommendations just for you.
Save the drama for your mama, Chaos has a "good vibes only" policy. Our primary focus is creating the best possible experience for each and every one of our guests, and that includes cultivating all the good vibes and sending them your way. 
<! ========= Cool Timeline Free 2.1 =========>
Timeline
Chaos is Founded
Chaos first opened in 2005 with a vision to create something unlike anything else. An exclusive experience for guests where they could feel at home. A place where people didn't feel the need to get dressed up to be pampered. A judgment-free zone.
The Big Move
We spent 7 years at the original Chaos on New Street and in 2012 when we found our future Chaos home on Macomb Place. We now have twice the square footage with three levels and countless services that we couldn't offer before! We are thrilled to provide an atmosphere that everyone feels welcome and happy! #WeMakeHairHappy
Celebrating 10 Years
Our 10 year anniversary at Chaos Studio Salon! So much teamwork and love went into so many years of making this dream come true. Successfully striving to make each year better and better by achieving our goals together as daymakers!
Taking it up a notch
Our 13 year anniversary sets a new standard at Chaos. With more structure and systems in place to ensure Chaos runs as smooth as humanly possible for our team and guests.
Surviving & Thriving
After a hard year for everyone in 2020 we shifted our focus on strengthening the foundation of Chaos. We hired a designer to rebrand Chaos so we can show off our amazing services and talented stylists as well as celebrate the fact that we survived 2020! Suck it COVID!
We're just getting started. To see what we're up to follow us on Instagram and Facebook.
586.465.2278
116 Macomb Place
Mt. Clemens, MI 48043
Sunday & Monday Closed
Wednesday & Friday 10:00 a.m. – 4:00 p.m.
Tuesday & Thursday 10:00 a.m. – 8:00 p.m.
Saturday 9:00 A.M. – 4:00 P.M.